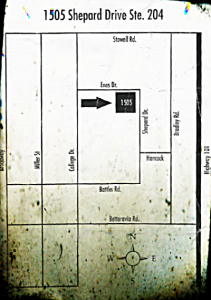 Phone: (805) 268-5317
Location: 1505 Shepard Dr., Suite 204
(follow the signs for "Core Rehabilitation: Integrated Therapies" and "Santa Maria Counseling")
Hours: Tuesday-Thursday 8-5
Mailing Address: P.O. Box 434 Santa Maria, CA 93456
Office hours are Tuesday-Thursday 8-5 right now. Administrative contacts are usually made 7:30-8AM and once more in the afternoon Monday-Friday. It may take 1-2 days to get a response, depending on the volume of phone calls and emails needing to be returned.
If you are a patient, please send a message through the HIPAA-compliant, secure patient portal.  If you forgot how to login, here you go: https://smcounsel.mytherabook.com/home/login. If you forgot your password, please send an email to reset it stating this.
We are closed to new referrals right now (edited July 2019).
Please complete contact form with any additional questions.
eyJpZCI6IjExIiwibGFiZWwiOiJDb250YWN0IGZvcm0iLCJhY3RpdmUiOiIxIiwib3JpZ2luYWxfaWQiOiI1IiwidW5pcXVlX2lkIjoiYnNvMTVpIiwicGFyYW1zIjp7ImVuYWJsZUZvck1lbWJlcnNoaXAiOiIwIiwidHBsIjp7IndpZHRoIjoiMTAwIiwid2lkdGhfbWVhc3VyZSI6IiUiLCJiZ190eXBlXzAiOiJjb2xvciIsImJnX2ltZ18wIjoiaHR0cDpcL1wvc3Vwc3lzdGljLTQyZDcua3hjZG4uY29tXC9fYXNzZXRzXC9mb3Jtc1wvaW1nXC9iZ1wvdGVhLXRpbWUucG5nIiwiYmdfY29sb3JfMCI6IiM5YjliOWIiLCJiZ190eXBlXzEiOiJub25lIiwiYmdfaW1nXzEiOiIiLCJiZ19jb2xvcl8xIjoiIzAwMDAwMCIsImJnX3R5cGVfMiI6ImNvbG9yIiwiYmdfaW1nXzIiOiIiLCJiZ19jb2xvcl8yIjoiIzU4OTMyZCIsImJnX3R5cGVfMyI6ImNvbG9yIiwiYmdfaW1nXzMiOiIiLCJiZ19jb2xvcl8zIjoiI2RkMzMzMyIsImZpZWxkX2Vycm9yX2ludmFsaWQiOiIiLCJmb3JtX3NlbnRfbXNnIjoiVGhhbmsgeW91IGZvciBjb250YWN0aW5nIHVzISIsImZvcm1fc2VudF9tc2dfY29sb3IiOiIjNGFlOGVhIiwiaGlkZV9vbl9zdWJtaXQiOiIxIiwicmVkaXJlY3Rfb25fc3VibWl0IjoiIiwidGVzdF9lbWFpbCI6ImdyZXRhQHNtY291bnNlbGluZy5jb20iLCJzYXZlX2NvbnRhY3RzIjoiMSIsImV4cF9kZWxpbSI6IjsiLCJkc2JsX3NlbmRfbGFiZWxzIjoiMSIsImZiX2NvbnZlcnRfYmFzZSI6IiIsInB1Yl9wb3N0X3R5cGUiOiJwb3N0IiwicHViX3Bvc3Rfc3RhdHVzIjoicHVibGlzaCIsInJlZ193cF9jcmVhdGVfdXNlcl9yb2xlIjoic3Vic2NyaWJlciIsImZpZWxkX3dyYXBwZXIiOiI8ZGl2IFtmaWVsZF9zaGVsbF9jbGFzc2VzXSBbZmllbGRfc2hlbGxfc3R5bGVzXT5cclxuICAgIDxsYWJlbCBmb3I9XCJbZmllbGRfaWRdXCI+W2xhYmVsXTxcL2xhYmVsPltmaWVsZF1cclxuPFwvZGl2PiJ9LCJmaWVsZHMiOlt7ImJzX2NsYXNzX2lkIjoiMTIiLCJuYW1lIjoiIiwibGFiZWwiOiIiLCJwbGFjZWhvbGRlciI6IiIsInZhbHVlIjoiPGgzIGNsYXNzPVwiaGVhZF9mb3JtXCI+Q29udGFjdCBVczxcL2gzPjxwIGNsYXNzPVwiZGVzY3JpcHRpb25cIj5JZiB5b3UgcXVlc3Rpb25zIGFib3V0IG91ciBzZXJ2aWNlcyBvciBhcmUgaW50ZXJlc3RlZCBpbiBmaW5kaW5nIG91dCBpZiB3ZSBjYW4gaGVscCB5b3UsIHBsZWFzZSBsZWF2ZSB5b3VyIGNvbnRhY3QgaW5mb3JtYXRpb24gYW5kIGEgYnJpZWYgbWVzc2FnZSBkZXNjcmliaW5nIHlvdXIgbmVlZC4gXHUwMGEwSWYgeW91IG1hdHRlciBpcyB1cmdlbnQsIGNvbnRhY3QgdXMgYnkgcGhvbmUuIFx1MDBhMDxcL3A+IiwiaHRtbCI6Imh0bWxkZWxpbSIsIm1hbmRhdG9yeSI6IjAiLCJhZGRfY2xhc3NlcyI6IiIsImFkZF9zdHlsZXMiOiIiLCJhZGRfYXR0ciI6IiJ9LHsiYnNfY2xhc3NfaWQiOiI2IiwibmFtZSI6ImZpcnN0X25hbWUiLCJsYWJlbCI6IkZpcnN0IE5hbWUiLCJwbGFjZWhvbGRlciI6IiIsInZhbHVlIjoiIiwiaHRtbCI6InRleHQiLCJtYW5kYXRvcnkiOiIxIiwibWluX3NpemUiOiIiLCJtYXhfc2l6ZSI6IiIsImFkZF9jbGFzc2VzIjoiIiwiYWRkX3N0eWxlcyI6IiIsImFkZF9hdHRyIjoiIiwidm5fb25seV9udW1iZXIiOiIwIiwidm5fb25seV9sZXR0ZXJzIjoiMCIsInZuX3BhdHRlcm4iOiIwIn0seyJic19jbGFzc19pZCI6IjYiLCJuYW1lIjoibGFzdF9uYW1lIiwibGFiZWwiOiJMYXN0IE5hbWUiLCJwbGFjZWhvbGRlciI6IiIsInZhbHVlIjoiIiwiaHRtbCI6InRleHQiLCJtYW5kYXRvcnkiOiIwIiwibWluX3NpemUiOiIiLCJtYXhfc2l6ZSI6IiIsImFkZF9jbGFzc2VzIjoiIiwiYWRkX3N0eWxlcyI6IiIsImFkZF9hdHRyIjoiIiwidm5fb25seV9udW1iZXIiOiIwIiwidm5fb25seV9sZXR0ZXJzIjoiMCIsInZuX3BhdHRlcm4iOiIwIn0seyJic19jbGFzc19pZCI6IjEyIiwibmFtZSI6ImVtYWlsIiwibGFiZWwiOiJFbWFpbCIsInBsYWNlaG9sZGVyIjoiIiwidmFsdWUiOiIiLCJodG1sIjoiZW1haWwiLCJtYW5kYXRvcnkiOiIxIiwibWluX3NpemUiOiIiLCJtYXhfc2l6ZSI6IiIsImFkZF9jbGFzc2VzIjoiIiwiYWRkX3N0eWxlcyI6IiIsImFkZF9hdHRyIjoiIiwidm5fb25seV9udW1iZXIiOiIwIiwidm5fb25seV9sZXR0ZXJzIjoiMCIsInZuX3BhdHRlcm4iOiIwIn0seyJic19jbGFzc19pZCI6IjEyIiwibmFtZSI6IlBob25lIiwibGFiZWwiOiJQaG9uZSBOdW1iZXIiLCJwbGFjZWhvbGRlciI6IiIsInZhbHVlIjoiIiwidmFsdWVfcHJlc2V0IjoiIiwiaHRtbCI6InRleHQiLCJtYW5kYXRvcnkiOiIwIiwibWluX3NpemUiOiIiLCJtYXhfc2l6ZSI6IiIsImFkZF9jbGFzc2VzIjoiIiwiYWRkX3N0eWxlcyI6IiIsImFkZF9hdHRyIjoiIiwidm5fb25seV9udW1iZXIiOiIwIiwidm5fb25seV9sZXR0ZXJzIjoiMCIsInZuX3BhdHRlcm4iOiIiLCJ2bl9lcXVhbCI6IiJ9LHsiYnNfY2xhc3NfaWQiOiIxMiIsIm5hbWUiOiJtZXNzYWdlIiwibGFiZWwiOiJNZXNzYWdlIiwicGxhY2Vob2xkZXIiOiIiLCJ2YWx1ZSI6IiIsImh0bWwiOiJ0ZXh0YXJlYSIsIm1hbmRhdG9yeSI6IjEiLCJtaW5fc2l6ZSI6IiIsIm1heF9zaXplIjoiIiwiYWRkX2NsYXNzZXMiOiIiLCJhZGRfc3R5bGVzIjoiIiwiYWRkX2F0dHIiOiIiLCJ2bl9vbmx5X251bWJlciI6IjAiLCJ2bl9vbmx5X2xldHRlcnMiOiIwIiwidm5fcGF0dGVybiI6IjAifSx7ImJzX2NsYXNzX2lkIjoiNiIsIm5hbWUiOiJjYXBjaGEiLCJsYWJlbCI6IkNhcGNoYSIsImh0bWwiOiJyZWNhcHRjaGEiLCJyZWNhcC10aGVtZSI6ImxpZ2h0IiwicmVjYXAtdHlwZSI6ImF1ZGlvIiwicmVjYXAtc2l6ZSI6Im5vcm1hbCJ9LHsiYnNfY2xhc3NfaWQiOiI2IiwibmFtZSI6InNlbmQiLCJsYWJlbCI6IlNlbmQiLCJodG1sIjoic3VibWl0IiwiYWRkX2NsYXNzZXMiOiIiLCJhZGRfc3R5bGVzIjoiIiwiYWRkX2F0dHIiOiIifV0sIm9wdHNfYXR0cnMiOnsiYmdfbnVtYmVyIjoiNCJ9fSwiaW1nX3ByZXZpZXciOiJ0ZWEtdGltZS5wbmciLCJ2aWV3cyI6IjY1NTYiLCJ1bmlxdWVfdmlld3MiOiIyODYwIiwiYWN0aW9ucyI6Ijk3Iiwic29ydF9vcmRlciI6IjEwIiwiaXNfcHJvIjoiMCIsImFiX2lkIjoiMCIsImRhdGVfY3JlYXRlZCI6IjIwMTYtMDUtMDMgMTI6MDE6MDMiLCJpbWdfcHJldmlld191cmwiOiJodHRwOlwvXC9zdXBzeXN0aWMtNDJkNy5reGNkbi5jb21cL19hc3NldHNcL2Zvcm1zXC9pbWdcL3ByZXZpZXdcL3RlYS10aW1lLnBuZyIsInZpZXdfaWQiOiIxMV8yMzQ3OTQiLCJ2aWV3X2h0bWxfaWQiOiJjc3BGb3JtU2hlbGxfMTFfMjM0Nzk0IiwiY29ubmVjdF9oYXNoIjoiY2I2ZmNkYTcyNTcwZjYxMWI1OWExMGYxOWI5NjViYWYifQ==