Gizelle and I are two private practice therapists who are passionate about helping all of our active patients, but also passionate about helping all the patients "yet to be".  We love "therapy first timers" and giving them a good first experience with therapy.  This makes them more likely to try therapy with us or one of you other lovely therapists in the area.  This is good for humanity and good for our field.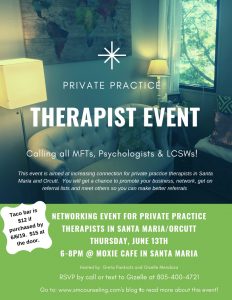 However, I am sometimes at a loss for how to refer someone who who is outside my scope, who I don't have immediate openings for or who has other various needs I cannot meet.  I know there are therapists out there I can refer to and Gizelle and I want to meet you*!  Our hope is to create some referral lists by specialties, hours, availability, ages served and insurances taken.  We also want to collect business cards and put faces to names.
Maybe you have a business idea you want to promote or a peer group you'd like to start.  Bring flyers, cards, questions, ideas and start planning your own group and event ideas.
We both really believe there there is enough work to go around and that we (and our community) will benefit from us being a more close knit community of service providers.  Let us know if you have any questions or ideas for the event, we will do our best to respond to those.  Please RSVP in advance so we can have enough food and seating.
*This event is for therapists in full or part-time private practice in Santa Maria and Orcutt.  If you are not yet licensed, but working with a registration from your Board, post-graduate school or Ph.D., in this setting, you are welcome as well.